ДЕТЕКТОР НА ВОДА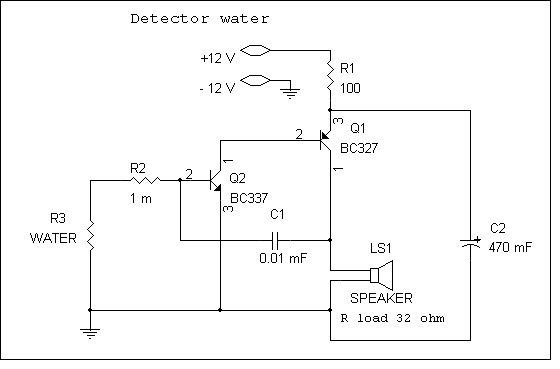 ТЕХНИЧЕСКО ОПИСАНИЕ
Показана е схема

на прост индикатор за

наличието на вода . Най-вече може да се използва за сигнализация при достигане до определено ниво на

водата

в различни конструкции . Датчика на устройството (съпротивлението на водата , показано като
R3
на схемата) представлява обикновен електрически проводник . За повишаване на
надеждната
работа на устройството за електрод е необходимо да се използва метал, устойчив на корозия , например посребрена пластина или от

специална стомана . Особено внимание да се обърне на
устойчивото
свързване на датчика със съединителния кабел на устройството , особено при големи разстояния (няколко десетки метри ) . В този случай трябва да се използват проводници с по-голямо сечение и е необходимо
надеждно
да се заземят устройството и водната конструкция . При наличие на недопустими смущения по свързващия проводник може да се конструира датчика с два симетрични електрода и да не се използва заземяването на конструкцията .
Индикатор влажности
Очень простая схема, а пригодиться может: да везде. Можно положить датчик в кошачий сортир, и вы всегда будете знать о состоянии мочевого пузыря зверя. Правда есть опасность испугать животину, так что будьте осторожны.

Схема индикатора: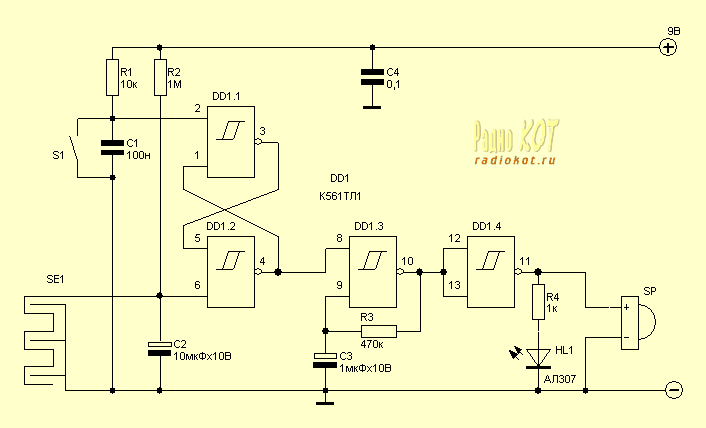 Всего делов то, что одна микросхема. Когда намокает датчик SE1, начинает пищать зуммер и загорается светодиод. Чтобы выключить тревогу надо высушить датчик и нажать кнопку S1.

В схеме используется зуммер со встроенным генератором. Конструкция датчика может быть любой, например можно вытравить вот такой рисунок на куске фольгированного стеклотекстолита.

У микросхемы есть забугорный аналог - это CD4093.
Источник: www.radiokot.ru
---
Индикатор влажност
---
Котрол ниво вода
Parts List

  R1 = 10 ohm, 10 watt, wirewound
  R2 = 100 ohm, potentiometer, wirewound
  R3 = 1 Mega-ohm potentiometer
  T1 = Transformer, 12.6volt, 1.2amp (min)
SCR1 = Silicon Controlled Rectifier, C106Y1, NTE5452, or equivalent
 TR1 = TRIAC, SC141D, NTE5608, etc., rated 6-10 amp, 200-400 volt. TO-220.

Fuse = Slow-blow, 2 amp.



This is a simple but reliable circuit for your sump-pump, aquarium, boat, or whatever, but water only. Please be careful when working with 115Volt line voltage! Take every precaution to avoid electrical shock. Unplug the power before making changes or touching resistor R1. Murphy's Law applies to all of us!




This circuit is NOT suitable for use with flammable liquids!!!

A Couple Notes:
Triac TR1 energizes a load which might control a valve, indicator light, audible alarm, relay, etc. The SC141D can be substituted with NTE5608, NTE5635, or Radio Shack 276-1001 model.
When the water-level is "low", the probe is out of the water and SCR1 is triggered "on". It conducts and imposes a heavy load on Transformer T1's secondary winding. That load is reflected back into the primary, gating TR1 on which energizes the load. The C106Y1 can be substituted with a NTE5452 or Radio Shack (or Tandy) 276-1352
T1 is 12.6V not 12V.

Applications of the circuit are limited only by one's imagination.
The load may vary from a water valve, a relay controlling a pump, etc. Lots of possibilities. Value of the (slow-blow) fuse may vary depending on your load. Select your probe carefully, keeping in mind the hardness and/or pH level of the water. In either case, on occasion it will be necessary to clean your probe from contaminants.

If your country's electrical supply is 220VAC change TR1 to a 400 - 600 volt type, potentiometer R2 to 220 - 500 ohms. If you find that 500 ohms is too coarse go with 220 ohm.
Experiment with the value for wire-wound resistor R1. It can be anywhere from 5 to 47 ohms. Start with 15 ohms or so and take it from there. Feel if it gets real hot (unplug the power first!). If so, increase the value.

---