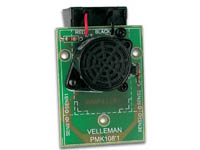 (Click Picture to Enlarge)
Water Alarm Detector Kit
Use this simple circuit to let you know when the basement is flooding or the washer machine has a hiccup. Piercing alarm sounds when water is detected. Water sensor can be placed at a distance by cutting the board and using wires to connect the sensor.

Specifications:
Board: L: 2.8" W: 1.8" H: 1"
Requires 9 Volt Battery .

See VEMK108.pdf for complete details, including schematic and theory of operation.
---